Welcome to the 24th IAMB Conference


October 9 -11, 2017
Venue: University of Wollongong in Dubai, Dubai, United Arab Emirates.

The 24th IAMB Conference is organized in collaboration with University of Wollongong in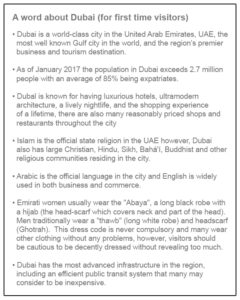 Dubai (UOWD), Faculty of Business, Dubai, United Arab Emirates.  The University of Wollongong in Dubai, UOWD, is a private university located in the Knowledge Village of Dubai, United Arab Emirates.  The University is one of the oldest universities in UAE.  It was founded as an overseas campus for the known Australian public research university.
UOWD has over 4,400 students from over 117 countries being taught by academics from more than 40 countries, and offers the best traditions of western education in a truly multicultural learning and research environment.  The university offers bachelor, master and doctoral degrees in, Business, Engineering and Information Sciences and Humanities.
UOWD's campus is conveniently located in the heart of the city and offers easy public transport links to all major tourism and leisure areas in Dubai.
A Special Note
The UAE is very progressive and welcoming.  Come and have a good time!
Entry visa information is available on the Hotel/Leisure Page.
Address: Blocks 5, 14 & 15, Al Sufouh Street, Dubai Knowledge Village, Dubai, United Arab Emirates.
Join us to fantastic Dubai for a stimulating and unique adventure. You will experience a friendly warm atmosphere with great opportunities for sightseeing, culture and collaboration!!
The conference provides a platform for professionals, practitioners, academics, educators and researchers in the various fields of management and business to disseminate and share the latest research, knowledge and experiences in the European and Mediterranean regions and beyond.
IAMB and the University of Wollongong in Dubai, are inviting scholars, practitioners and others to submit papers for presentation. Your submission will be published in the Conference Proceedings on a CD-ROM (ISSN 1949-9094), and Online (ISSN 1949-9108).
What Attendees Say…
"I truly enjoyed working with the budding scholars from a variety of international locations. Many opportunities and productive conversations evolved… I now have a better feel for the importance of this type of venue, and the deep service IAMB provides toward forging new relationships, alliances, and partnerships that can broaden a truly multi-cultural and global lens". LES (Assoc.Prof)
"The conference, among others, ideally served to foster and develop academic network relations on a global scale". MG (Professor)
"I thoroughly enjoyed the IAMB SF conference. I found many of the presentations insightful, and learned a lot about several important concepts that may apply to my own research". UN(Student)
"Thank you very much for the conference. It was a fantastic experience and I thought it was very stimulating and well organized". AP (Student)
"I want to thank you and the IAMB Organizing Committee for an excellent and well-organized conference! The themes, speakers and discussions were diverse, stimulating and interesting".KL (Assoc.Prof)

"Thank you for organizing an exciting and vibrant conference! I enjoyed meeting people from around the world and hearing some very interesting presentations. Also, I appreciate that the conference was well-run, organized, and on time". JB (Professor)
Important Deadline Dates
Abstracts & Manuscripts:
July 29, 2017 – Submission of abstracts OR manuscripts
         (if abstract is submitted, manuscript is due by August 6, 2017.)
August 6, 2017 – Full manuscripts are due**
September 11, 2017 – Final revised manuscripts are due***
Registration:
July 23, 2017 – Authors' early registration
August 15, 2017 – Cancellation with refund
August 27, 2017 – Authors' registration (to include papers in the Proceedings)
October 1, 2017 – Registration for non-presenters
Other Dates:
August 25, 2017 – Submission for Award Competitions
September 20, 2017 – Abstract page for the Abstract Booklet
** For those who submitted abstracts only
*** Final revision of previously submitted manuscripts