Hotel Accommodations
The Organizing Committee has negotiated and reserved a block of rooms in the 4-star award winning, Gloria Hotel, near the University of Wollongong.  Please use promo code "NLIT" during your booking process.  The hotel is adjacent to Dubai Internet City Metro Station making it easy for conference participants to explore the city.
Gloria Hotel's rooms are spacious suites, include elegant furnishings, and a separate lounge area with flat-screen TV.   Every accommodation has a balcony with panoramic views of Dubai and Palm Jumeirah.
Guests of the Gloria Hotel enjoy free Wi-Fi service, can relax in the 25-meter outdoor pool and hot tub, or exercise at the well-equipped fitness center and squash courts.  Free valet parking is also offered.
The Organizing Committee is committed to provide you with a productive conference and an enjoyable stay in Dubai.  For this reason, we offer a complete package that includes all conference activities, meals, reception, refreshment breaks.  In addition we have negotiated a competitive rate for accommodations while staying at the Gloria Hotel.  However, if you live in Dubai or have family or friends that will provide your accommodations, you may opt not to stay at the hotel we have contracted.
Hotel Reservation information
We ask that hotel reservations be made directly with the Gloria Hotel on their website at gloriahoteldubai.com.  There will be a reservation window for IAMB delegates starting on August 31st and lasting 1 week until September 12th.  The discount code for use on their website available during this period is "NLIT".  The contracted room rate will be available to delegates wishing to stay at the Gloria Hotel for up to 3 nights before the conference and 3 nights after the conference.   These accommodations include a single/double occupancy room with either a king size bed or two twin size beds, in addition the rate includes breakfast for one person.  An additional fee applies if breakfast is requested for a second person.
Gloria Hotel Dubai
http://www.gloria-hotels.com/en/hotels/gloria-hotel/
Address: Dubai Media City, P.O. Box 502222 Dubai, UAE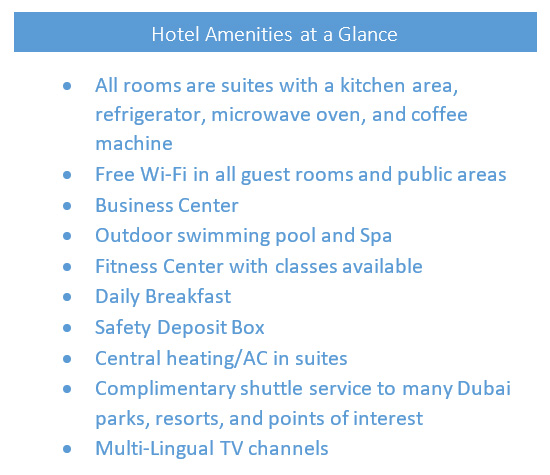 Conference Dates: 8,9, 10 October, 2017
Extended Stay: 3 nights before or after
Rates in AED: 450 net including taxes with breakfast for one person in Single Occupancy
Note on rates: Dubai Tourism asks an additional charge of AED 15 per room/per night  for 1 bedroom suite
Extra Bed: AED 160 NET per bed/per night including breakfast
Double Occupancy:  AED 50 per day for second person breakfast
Reservation window: August 31-September 12, 2017
How to Book:  Contact the hotel directly at their website, using the discount code provided.
Booking Code:  "NLIT" use as promo code on the Gloria Hotel website during booking process
**Note: $1 USD = AED 3.67  ,  1 Euro = AED 4.36
For questions regarding reservation information contact our representative at the Gloria Hotel
Khaled Safarini
khaled.safarini@gloriahoteldubai.com
+971 4 399 6666
Direct +971 56 624 4751
Fax +971 4 381 8067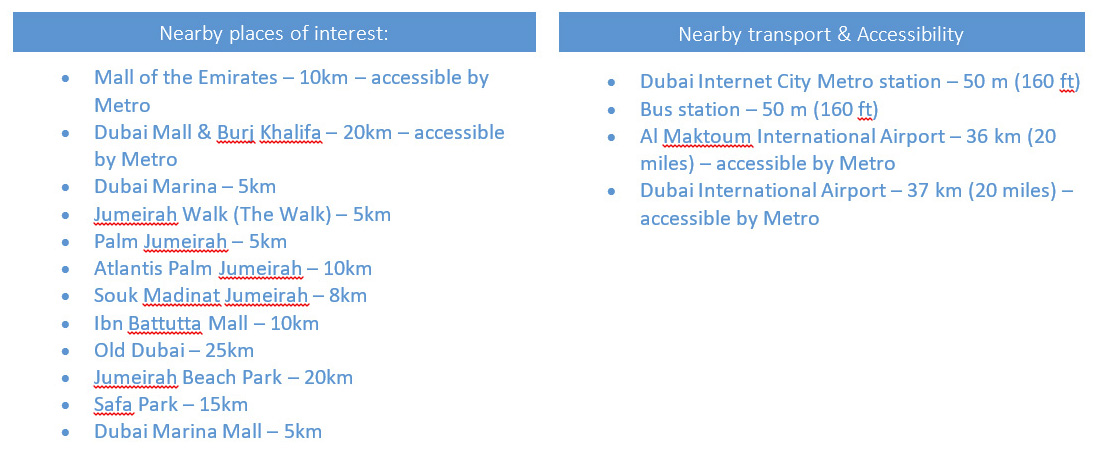 ***1 Km is equal to 0.625 mile
---
Visa Information
Visitors to Dubai must obtain a visa from one of the UAE consulates/Embassies unless they come from countries that are either visa exempt or whose citizens may obtain a visa on arrival or online.  Obtaining an entry visa to UAE depends, among other items, on the duration and the purpose of your stay.  Entry visas MUST be processed prior to arrival to the UAE.
Exempt from visas are nationals of The Arab Gulf Co-operation Council (GCC) States.
Also exempt are nationals of the following countries who do not need advance visa arrangements to visit the UAE.  Simply disembark your flight and proceed to Immigration, where your passport will be stamped with a 30-day visit visa free of charge:
Australia , Andorra, Austria, Brunei, Belgium, Bulgaria, Canada, Croatia, Czech Republic, Cyprus, Denmark, Estonia, Finland, France, Germany, Greece, Hong Kong SAR, Hungary, Iceland, Ireland, Italy, Japan, Latvia, Liechtenstein, Lithuania, Luxembourg, Malaysia, Malta, Monaco, Netherlands, New Zealand, Norway, Poland, Portugal, Romania, San Marino, Singapore, Slovakia, Slovenia, South Korea, Spain, Sweden, Switzerland, United Kingdom, United States of America and The Vatican.
Travelers from countries NOT listed above attending a conference will NEED to arrange a visa IN ADVANCE of travel.  All visas applied for, are subject to the approval of the Immigration Authorities.  Visitors should carry a passport with an expiration date of at least 6 months beyond the "duration of stay" of their visa.
Special note for Israeli travelers
Israeli nationals with Israeli passports are only allowed to enter the United Arab Emirates with an appropriate visa that MUST be obtained at least 3 months PRIOR to the planned entry.  Israeli nationals who carry an additional passport, may enter the UAE with their second passport.  Depending on what is their second nationality, they may or may not require a visa.  There is no issue or restrictions of any kind to enter the UAE for having an entry to Israel stamped on your passport.